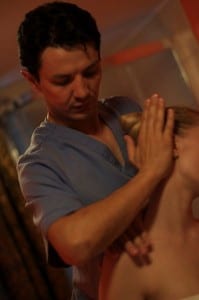 Structural Bodywork is accomplished in three ways: through integrative bodywork on a massage table, with movement education that teaches clients more efficient ways of using their bodies than they have known before; and in dialogues with the practitioner that allow clients to examine the attitudes, feelings, thoughts, and beliefs that have shaped their bodies and make them what they are today. The difference between Structural Bodywork and most other Western bodywork traditions is comparable to the difference between the preventive, holistic Western medicine of the early 20th century: rather than treating a condition and sending a client back to their old ways of living, the Stuctural Bodywork practitioner seeks a fundamental change in the condition of his client's life. In this approach Structural Bodywork may be regarded as psychosomatic education.
Structural Bodywork is great for relief of sore, tight muscles, fascial restrictions, sports injuries, improvement of posture through proper realignment, or simply relaxation. Offering more than basic massage, the choice of techniques depends on the condition at hand.
For optimal results, careful assessment by an experienced practitioner helps determine the specific areas to be worked on and which bodywork techniques are appropriate for the client's needs.
Structural Bodywork Defined
Structural Bodywork is deep tissue bodywork designed to realign the body and release acute or chronic pain, tension and stress. It also is effective in the treatment of injuries related to sports, repetitive stress, or accidents. It is a combination of various bodywork and movement systems developed or synthesized by Bill Carey.
Who should receive Structural Bodywork?
Anyone! With Structural Bodywork the alleviation of pain brings about better posture, emotional relief, more flexibility and fluid movement inside and outside of the body. Stuctural Bodywork addresses the different layers of tissue in the body and allows it to relax, lengthen and release chronic holding patterns. In other words, Structural Bodywork is for everyone! Structural Bodywork stretches and re-positions the connective tissues, such as the fascia, tendons, ligaments, and muscles, utilizing stretches, neuromuscular techniques, deep tissue techniques, and very specific exercises, to re-align the body's innate structure and balance.
What issues can Structural Bodywork help with?
Neck pain
Back pain
Shoulder pain (especially knots under shoulder blade)
Hip pain
Carpal tunnel
Headaches or migraines
Whiplash
Asymmetries
Scoliosis
Thoracic outlet syndrome
Rounded shoulders
Head-forward posture "computer posture"
Tight hamstrings
General stiffness or inflexibility
Rotator Cuff
Frozen Shoulders
Tendinitis
Sports Injuries
cycling injuries therapy
Runner injuries therapy
Sciatica
Dancing Injuries
Shoulder, Neck or Back Pain
Tendonitis
Nerve Entrapments
Carpel Tunnel Syndrome
Thoracic Outlet Syndrome
Piriformis Syndrome
Frozen Shoulder (Adhesive Capsulitis)
Knee Problems
Illiotibial Band Syndrome
Shin Splints
Plantar Fasciitis
Limited Range of Motion
Headaches
Pain Due To Arthritis
Faulty Neuromuscular Patterns
Postural Misalignments
Post Surgery Pain Relief
Post-Surgery Scar And Adhesion Prevention
Benefits often reported from receiving Structural Bodywork are:
Decreased pain
Increased range of motion and ease of movement
Standing taller and straighter without effort
Feeling more "grounded"
Greater connection with the body
Quicker recovery from injury
Results that last
People from all different walks of life have benefited from Structural Bodywork:
Athletes and dancers
Office desk workers
Musicians
Manual laborers
Yogis and yoginis
Seniors
People interested in increased connection with themselves,
their bodies, and the world